Brazilian math olympiad medallists awarded at ICM
July 29, 2018, 3:53 pm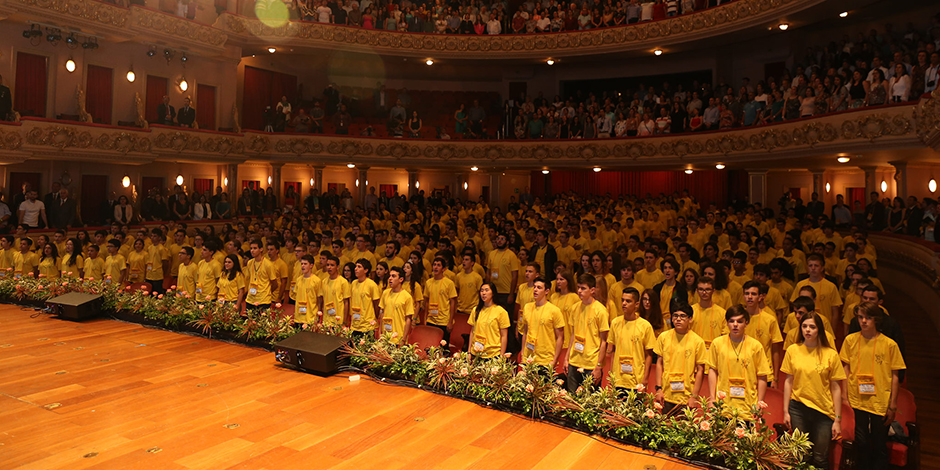 On the same stage that four of the world's leading mathematicians will receive the Fields Medal, the highest honor in mathematics. 576 public and private school students from all over Brazil will be awarded gold medals earned for their outstanding performance in the 2017 edition of the Brazilian Mathematics Olympiad of Public Schools (OBMEP). The largest school competition in the world, OBMEP has been held since 2005 by the Institute of Pure and Applied Mathematics (IMPA) in partnership with the Brazilian Society of Mathematics (SBM).
The awards ceremony will take place at 3:30pm on August 2nd at the Riocentro convention center during the 2018 International Congress of Mathematicians (ICM 2018). Hosted in the southern hemisphere for the first time in history, ICM will bring unite researchers from all over the world from August1st – 9th who will hear researchers outline outstanding studies in the field. ICM provides a platform for exchange of academic experience. and networking opportunities for future collaboration.
Read more:
Representatives from the Brazilian Ministry of Science, Technology, Innovation and Communication and Ministry for Education & Culture will participate in the nationwide award ceremony along with IMPA Director Marcelo Viana, and OBMEP national coordinator Claudio Landim.
The largest student competition in the world, OBMEP is aimed at students from the 6th grade onwards and tested 18.2 million youngsters from 99.6% of Brazilian municipalities – 17.8 million from public schools. The 13th edition, held in 2017, was the first to include participants from private schools. 941 thousand qualified for the second phase of the competition, with 576 ultimately winning gold medals.
OBMEP 2017 awarded 500 gold medals, 1,500 silver, 4,506 bronze and 38,6 thousand honorable mentions to students in the public school system, and 76 gold medals, 227 silver medals, 682 bronze medals and 5,700 honorable mentions.
About OBMEP
The OBMEP is created and administered by IMPA with resources from the Ministry of Science, Technology, Innovation and Communications (MCTIC) and the Ministry of Education (MEC) and support by the SBM. It aims to stimulate the study of mathematics and to reveal new talents, encouraging interest in scientific and technological areas and promoting social inclusion through the diffusion of knowledge.
The Olympiad is one of many activities that form part of the Gomes de Sousa Mathematics Biennial 2017-2018, which brings together national and international initiatives designed to encourage math study and to popularize the discipline, bringing it closer to a wider public.
The OBMEP impact on mathematics results in the Brazil have been measured independently. INEP president Chico Soares said schools that actively participate in the competition have shown up to a 26-point improvement in the public school assessment system called Prova Brasil, equivalent to an extra 1.5 years of schooling.