Female mathematicians discuss overcoming career obstacles
July 31, 2018, 3:16 pm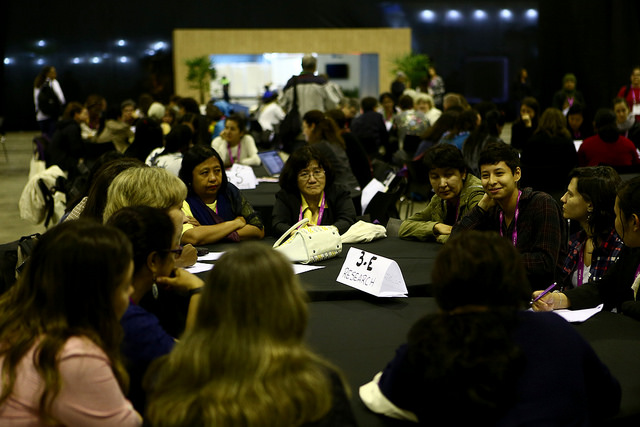 Women from all over the world gathered at (WM)² a satellite event of the International Congress of Mathematics in Rio de Janeiro. Gathered in groups of a dozen or more, and speaking several international languages, the female mathematicians attending the global gathering were eager to talk about gender obstacles they face in mathematics.
"The 'good' mathematicians were men. Investigators were all men, all teachers were women," said Sinem Odabasi, a Turkish mathematics professor at the Universidad Austral do Chile. She said that visibility of female role models occupying sought-after academic positions in mathematics departments was fundamental to sparking the interest of female undergraduate students. Studies support her assertions: in the US, female mathematics academics hold just 15 percent of tenure positions; elsewhere, representation is even lower.
Read more:
Although representation in math departments has yet to reach an even split between the sexes, many were pleasantly surprised by examples of overall faculty gender representation. Rusu Galini, dean of Moldova State University's mathematics faculty, said that that department's staff is roughly 60 percent male and 40 percent female. Other delegates noted that while female performance has been steadily improving in schools in recent years, women are not adequately represented in academia. Algebra professor at Indonesia's Universitas Gadjah Mada,Sinem Odabasi said: "The number of women with PhDs [in mathematics] is the same as it was ten years ago," she said.
The problem goes beyond stimulating interest for young women and girls, some said. Marie-Françoise Roy, of Rennes 1 University said a lack of consolidated global data on gender parity among math academics was a fundamental part of the problem. With the help of IMU (International Mathematics Union), Roy and International Council for Science colleagues plan to collect data across countries and disciplines to produce more solid data on the science gender gap.
Many academics said fears around how to balance maternity with academia loomed large as they set out on their academic careers. "We want to see if it's actually possible to compare how much research men and women mathematicians produce," said Adenike Adeniji, from Nigeria's Abuja university. "Then we can breach the gap between maternity and career."
Women discussing patriarchal practice in academia observed that although they shared similar issues, cultural differences were crucial to understanding how to confront challenges. Latin American participants felt structural gender-based discrimination was often more blatant in their academic institutions than in those in Europe or in the US. "Gender diversity, along with other types of diversity in universities, is still just a poster," said Natalia Garcia, a research fellow at CONACyT INFOTEC, Mexico's national science and technology commission.
Most agreed that cultural messaging told them to accept discrimination in order to succeed. "There's healthy competition and then there's unhealthy competition," said Mariel Saez, an associate professor and department chair at the Universidad Católica de Chile. "You don't have to get used to everything."