Saint Petersburg beats Paris to win bid to host ICM 2022
July 29, 2018, 7:30 pm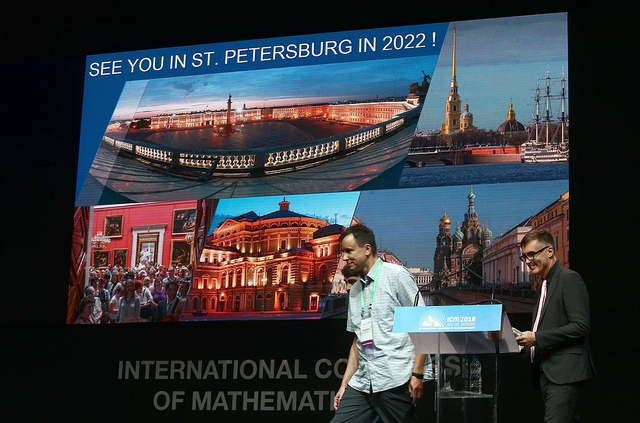 Saint Petersburg will host the next International Congress of Mathematicians, in 2022. Russia's second largest city beat Paris by 83 votes to 63 in the first-ever bid in the history of the ICM, at the 2018 General Assembly in São Paulo. Saint Petersburgs' bid was unanimously recommended by the IMU Executive Committee, which visited both cities in March.
ICM 2022 will be the second ICM in Russia in History, after the 1966 Moscow event. Russia has a long tradition in Mathematics History, having eight Fields Medal winners – two of whom, Stanislav Smirnov, was a leading bidder – and celebrated mathematicians throughout the years. Andrei Okounkov, another Fields medallist, was also part of the team.
Read more:
The USD$9 million Russian bid included strong government support, visa-free entry to all ICM participants, 1,000 Travel Grants with full financial support for mathematicians from developing countries. Moreover, 1,300 young people from all over the world will have their local expenses covered. Governmental engagement in Saint Petersburg's bid was evident with the presence of Arkady Dvorkovich, former vice prime minister and Russia World Cup Organizing Committee Head, alongside Smirnov.
The Russian government stated full support for the event and previous experience with the FIFA World Cup, the Winter Olympics in Sochi, and other events, were presented as successful examples by the bidders. The French candidacy presented a video of president Emmanuel Macron in which he also guaranteed full support for the Paris bid.
Before voting took place, ICM Executive Committee member Hyungju Park pointed out that the Russian bid had an ample budget with room for unexpected surprises; that visa-free entry would make it easy to travel to Saint Petersburg and reduce travel costs. The South Korean also noted that an offer of complete support for 1,000 mathematicians from the developing world to travel and the funding of 1300 students' travel costs would likely increase the impact of the event.