The Second Congress on Mathematics Education in Central America and the Caribbean (CEMACYC II) will be held in Cali, Colombia, from October 29 to November 1, 2017.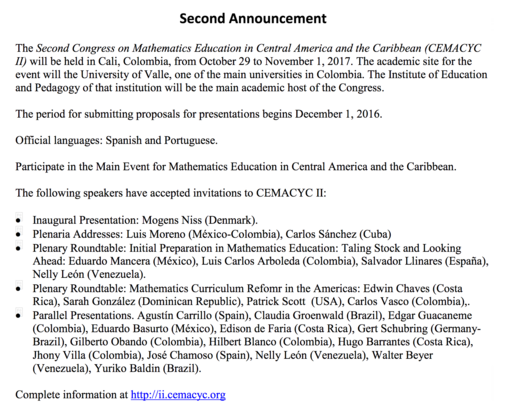 II Congreso de Educación Matemática de América Central y de El Caribe
El II Congreso de Educación Matemática de América Central y de El Caribe (II CEMACYC) se realizará en Cali, Colombia, del 29 de octubre  al 1 de noviembre del 2017.
La Sede del evento es la Universidad del Valle, una de las principales universidades de Colombia. El Instituto de Educación y Pedagogía de esta institución será el principal anfitrión académico del congreso.
Los participantes podrán disfrutar de la hospitalidad de la gente de Cali, y visitar las múltiples bellezas naturales que la rodean.
El I CEMACYC se realizó con un gran éxito en Santo Domingo, República Dominicana, en noviembre del 2013.
Este congreso es organizado por REDUMATE: la Red de Educación Matemática de América Central y El Caribe (www.redumate.org),  fundada en el 2012 durante la realización del seminario CANP (Capacity and Networking Project) de la International Commission on Mathematical Instruction (ICMI), celebrado en San José, Costa Rica. REDUMATE tiene una relación estratégica de colaboración con el Comité Interamericano de Educción Matemática.
El II CEMACYC contará con prestigiosos oradores invitados de la comunidad internacional de Educación Matemática que participarán en conferencias y mesas plenarias, conferencias paralelas,  y minicursos. También tendrá Sesiones Temáticas que abordarán varios temas mediante discusiones que buscan promover el desarrollo de investigaciones. Estas sesiones son invitadas.
El II CEMACYC está abierto a la presentación de propuestas de ponencias de académicos y estudiantes en diversas modalidades: comunicaciones, talleres y posters.
También se realizarán reuniones de grupo. Estas serán planteadas con base en los temas del congreso, o de organizaciones o asociaciones interesadas.
Aunque el evento está dirigido a la región centroamericana y caribeña, su perspectiva es internacionalista, y por eso busca que académicos y estudiantes de fuera de la región participen, en un ambiente internacional rico y acogedor.
El congreso cuenta con el respaldo de ICMI, la International Mathematical Union (IMU) y el Comité Interamericano de Educación Matemática (CIAEM). Cuenta con el apoyo de la Universidad del Valle y de la comunidad de Educación Matemática de toda Colombia.
Lenguas oficiales: Español y Portugués.
Participe en el principal evento de Educación Matemática de América Central y El Caribe.
Desde el 1 de mayo del 2016 es posible inscribirse en la plataforma del II CEMACYC, y recibir información.